During one of my many hours crafting in front of the TV last year an interesting segment grabbed my attention on the Alan Titchmarsh show (yes, I know, daytime TV!). His resident florist was talking about the Victorians' interest in the meaning assigned to flowers and he showed how different messages could be conveyed depending on the components of a bouquet. This piqued my interest because I love puzzles and things with hidden meanings so I bought a copy of The Language of Flowers by Mandy Kirkby and the novel of the same name by Vanessa Diffenbaugh to investigate further. My first dip into Mandy Kirkby's book quite surprised me - who would think that Basil indicated Hate or Marigold stood for grief? So in this post I thought I would explore some of these meanings and (being someone never to do things by halves) at the same time create my first Etsy Treasury! My fledgling Etsy shop Aliscrafty needs to pique some interest itself so here goes to kill two birds with one stone.
Sunflower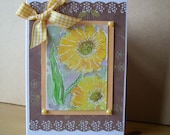 This represents false riches which seems odd considering how we value both the oil and the seeds but this stems from Spaniards arriving in Peru being dazzled by the Inca sunflower jewellery and then disappointed when they realised fields of sunflowers weren't also made from the precious metal. In my treasury this is represented by Aunty Joan's sunflower card. Her shop has lots of other goodies here:
http://www.etsy.com/shop/AuntyJoanCrafts
Dandelion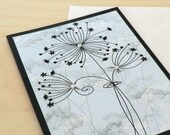 The meaning of dandelion is rustic oracle, apparently a reference to the fact that many meanings for this humble flower have been woven into folklore, including: the size of stalk a child picks will indicate how much he'll grow that year; and if you blow on a dandelion seed head and some seeds remain you're not lucky in love. Mmm - not sure about those. I'd rather have this pretty card with seeds intact from Etsy shop Lilly's Night Garden. More beautiful handmade cards to be found here:
http://www.etsy.com/shop/lillysnightgarden
Bluebell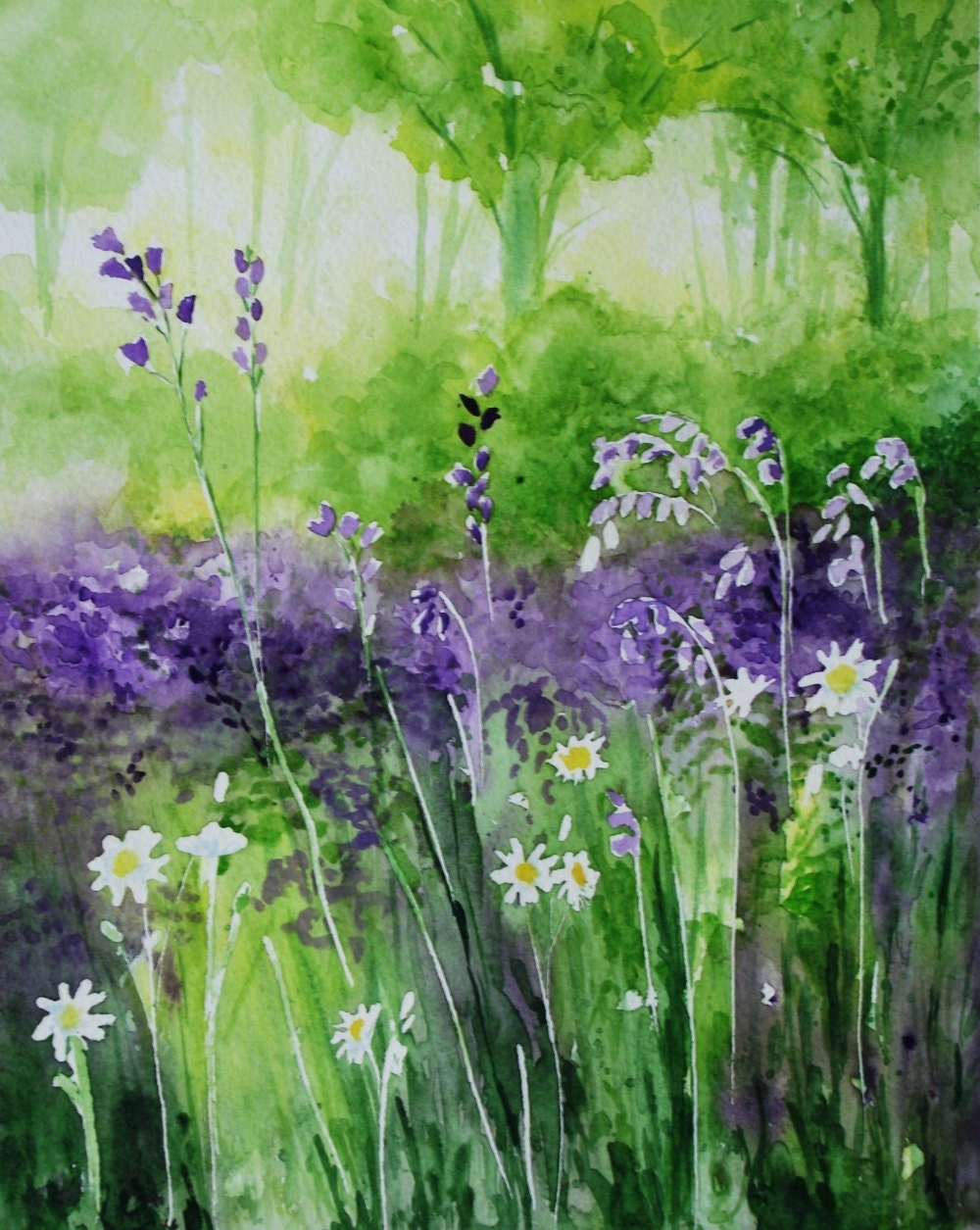 The bluebell is a symbol of constancy. There's nothing like seeing that blue haze in the woodlands in spring. This painting by Geannette Backer has captured it beautifully. Her Etsy shop is full of equally lovely watercolours. It's here:
http://www.etsy.com/shop/lavendergeorge
Azalea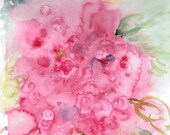 The azalea represents fragile and ephemeral passion. I think this picture from Handmade Exclusives in South Carolina has this in abundance. If you love this too have a look at their Etsy shop here:
http://www.etsy.com/shop/HandmadeExclusives
Oats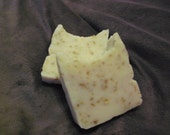 In Mandy Kirkby's book oats are described as the witching soul of music. There's no explanation of this interpretation although I've tried other sources and found the same meaning. It sounds enchanting so I had to include it and in my treasury it's represented by Gemma Grice's luxury oat soap. Like mine her shop is relatively new. See what else she has to offer here:
http://www.etsy.com/shop/buggalugbubbles
Poppy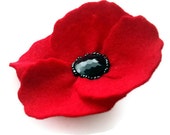 The poppy's meaning is fantastic extravagance. Mandy Kirkby quotes John Ruskin: 'It is an intensely simple, intensely floral, flower. All silk and flame, a scarlet cup ... like a burning coal fallen from Heaven's altars.' This one's from Laura Smith's Etsy shop. She has other floral loveliness here:
http://www.etsy.com/shop/madebylolly
Hollyhock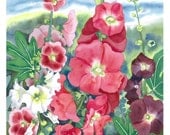 The hollyhock stands for ambition, something we all need to have for success and Etsians have in abundance. I just love the colours in this gorgeous print from Michele Webber. It happens it would go perfectly in my bedroom and may well be on my birthday list. If like me you love Michele's style then take a look at her Etsy shop here:
http://www.etsy.com/shop/michelewebber
.
Daisy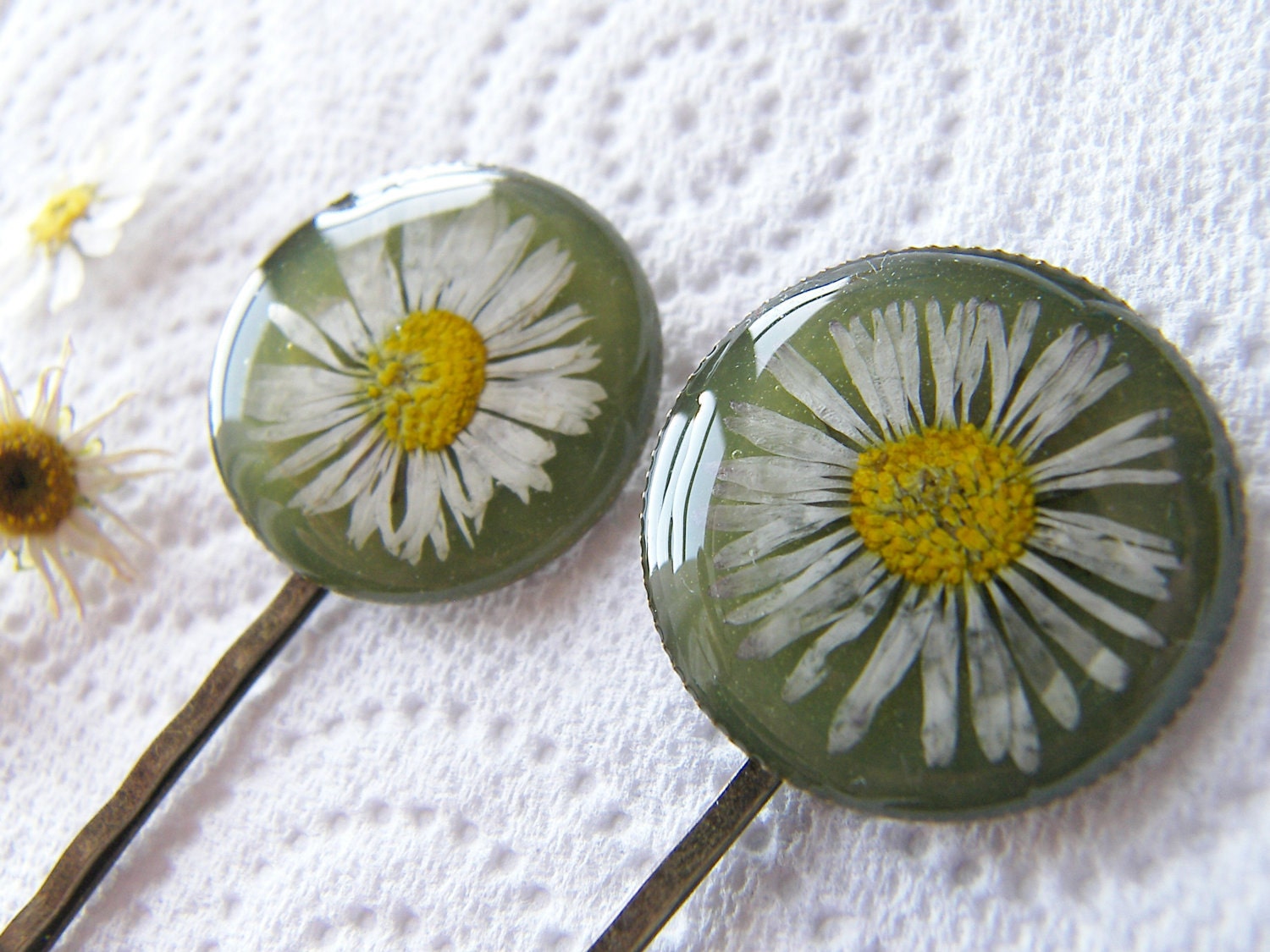 It is not surprising that this simple flower stands for innocence. Daisies seem to have been particularly prolific this year truly looking like 'Embroiderers of the carpet earth' (by John Clare and quoted by Mandy Kirkby). Wouldn't these look beautiful in your hair? There's lots more real flower jewellery from one of my favourite shops here:
http://www.etsy.com/shop/WishesontheWind
Chrysanthemum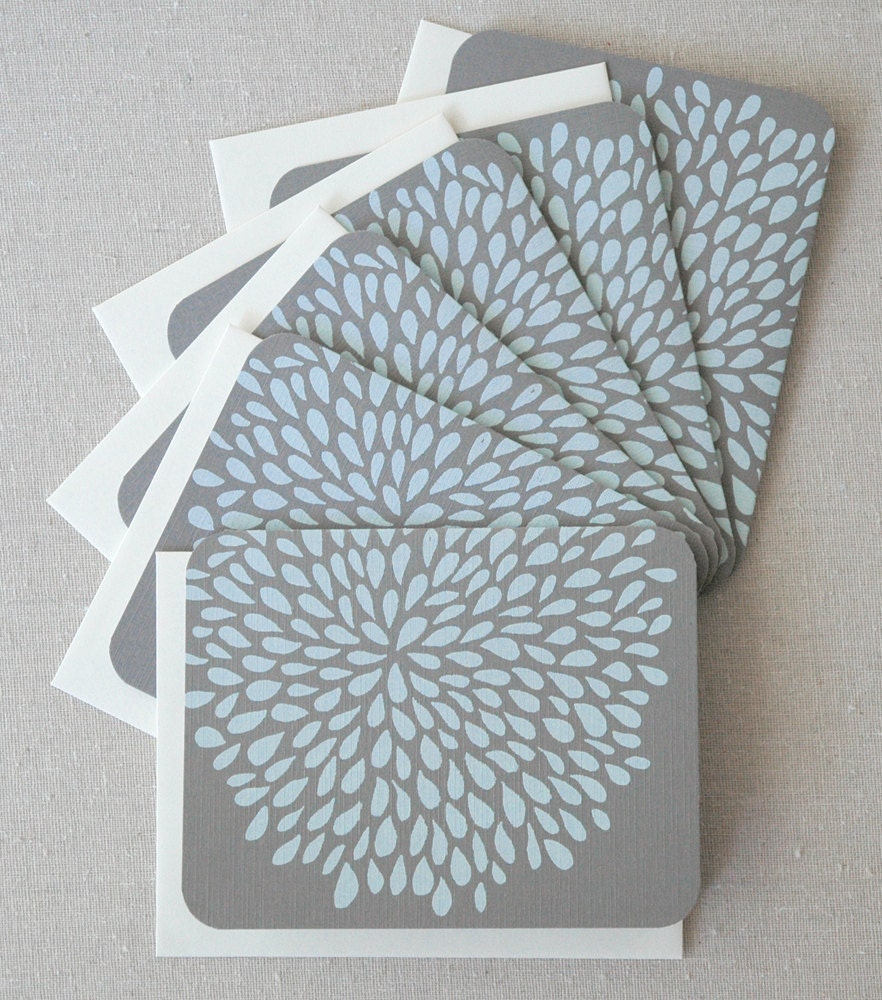 I had to include this because it's my birth flower - to me it smells of autumn. It stands for truth. I love this modern handmade interpretation of this complex looking flower in these cards. Other colourways can be found in Sara Elliott's shop here:
http://www.etsy.com/shop/FrecklesandWit
Camellia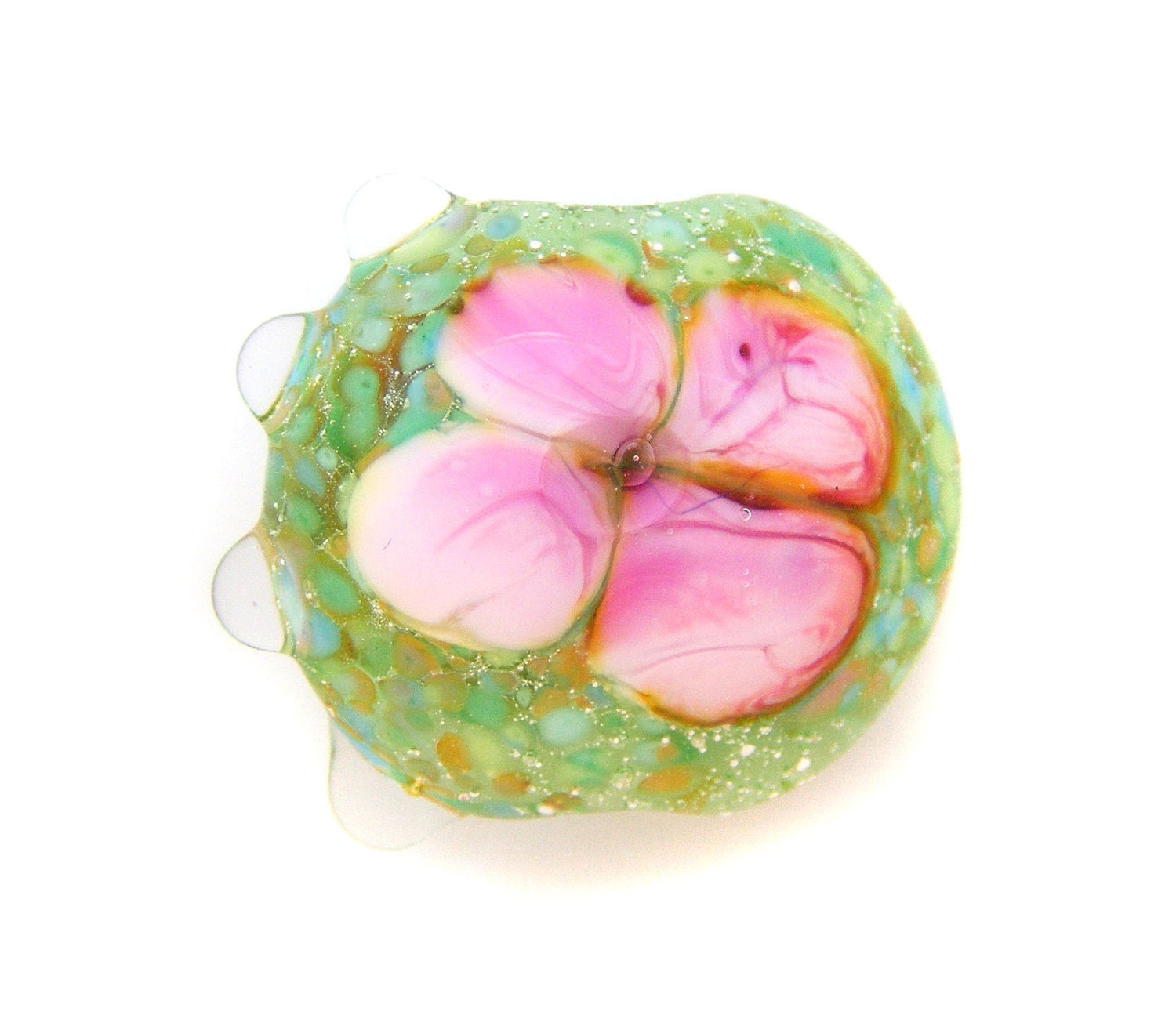 The meaning of camellia is My Destiny is in Your Hands which I think would make a good motto for those who sell on Etsy! Because it blooms during the dark months of the year it is known as the Empress of Winter and is striking for the delicacy of the petals against the shining evergreen leaves. This beautiful glass bead by Amber Boorman has captured it perfectly for me. Find more of her handmade lampwork beads in her shop here:
http://www.etsy.com/shop/LarksongStudio
Chamomile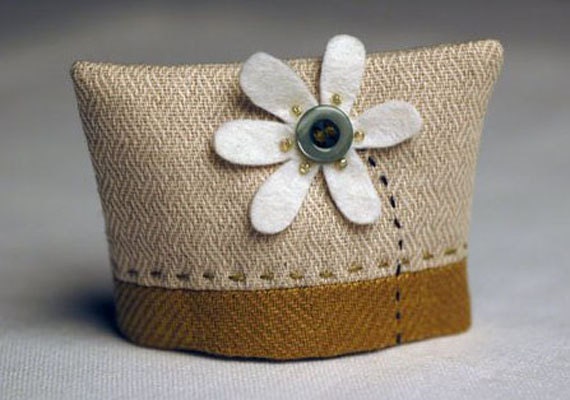 Chamomile is a survivor - no trampling feet, human or cattle, stop its progress, it adapts and keeps going. Its meaning reflects this: Energy in Adversity. It's been another tough year so far in the UK so this tiny flower stands for what we need too. I think the simplicity of this handmade egg cosy encapsulates this idea. Sharon Goodwin has other items in this range in her shop here:
http://www.etsy.com/shop/sewsillylily
Flax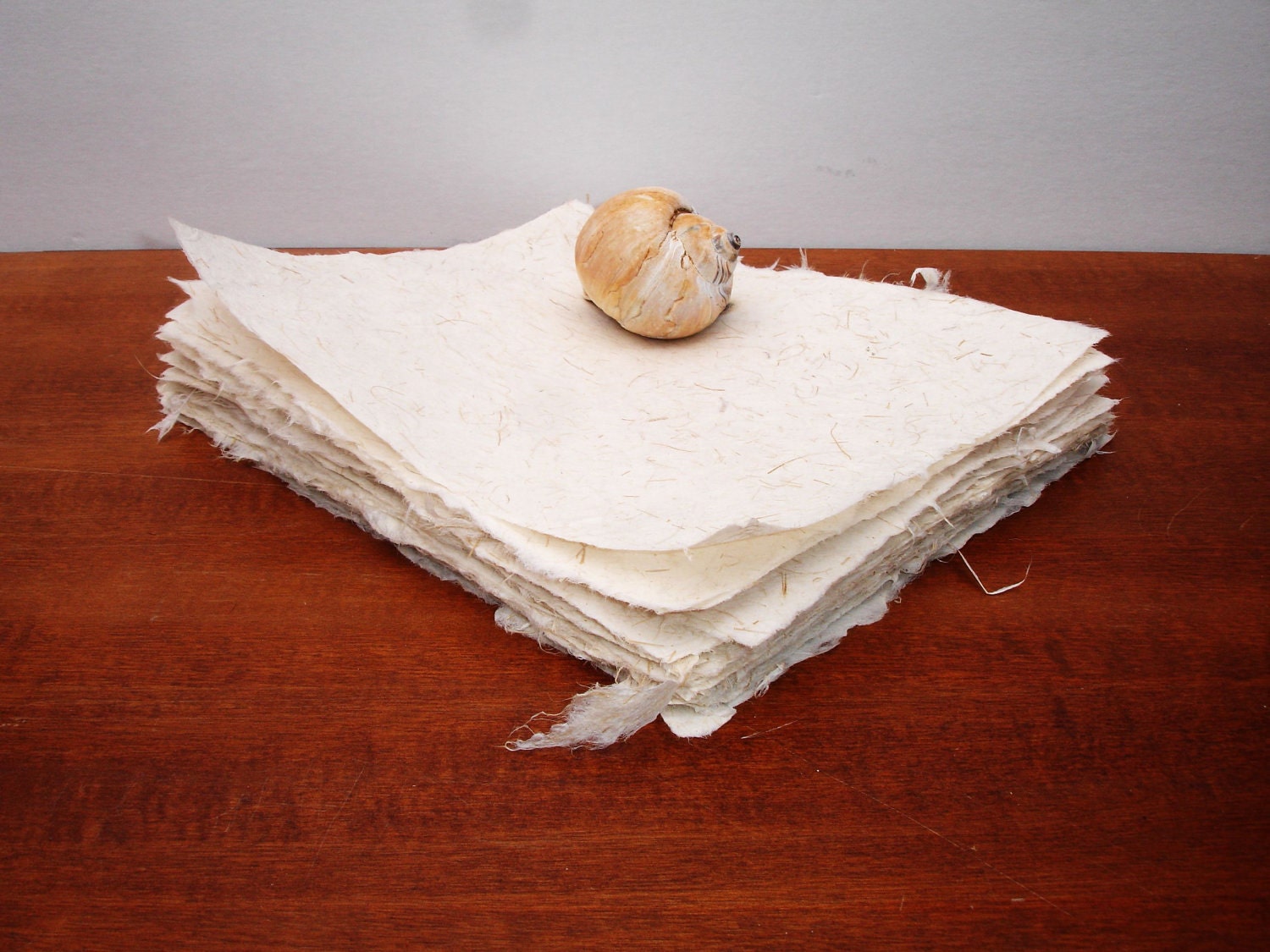 Another simple flower with a lovely colour, flax stands for 'I feel your kindness' - another lovely thought. It's also a very useful plant as this high quality handmade paper shows. Find more at
http://www.etsy.com/shop/papermaker
Angelica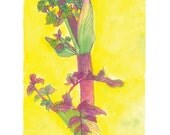 Another concept embraced by all handmade artists and crafters, angelica stands for inspiration, without which the amazing array of beautiful items available would not exist. This print of angelica by another Alison (in New York) comes from a book 'The Exuberant Garden' - I love her style.
Find her shop here:
http://www.etsy.com/shop/aleebird
Aster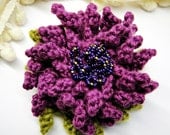 When I was a child I used to plant asters in my patch of garden and I still love the intensity of their petals. Fellow knitter Pat has nailed this for me with her aster corsage. They stand for patience, something all crafty folk need. There are lots of other lovely items in her shop (I may have to buy some of the beads when I'm done here).
Take a look here:
http://www.etsy.com/shop/ShooglyBeads
Lily of the Valley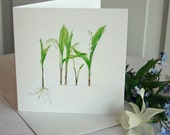 This sweet plant with its old-fashioned scent thrives in a cool, damp environment so it should have been doing really well in Britain this year! Because it is at its peak in May its meaning is Return of Happiness. This card from botanical artist Charlotte Linder captures it perfectly. Find more artistic beauty in her shop here:
http://www.etsy.com/shop/TheBotanicalConcept
.
Allium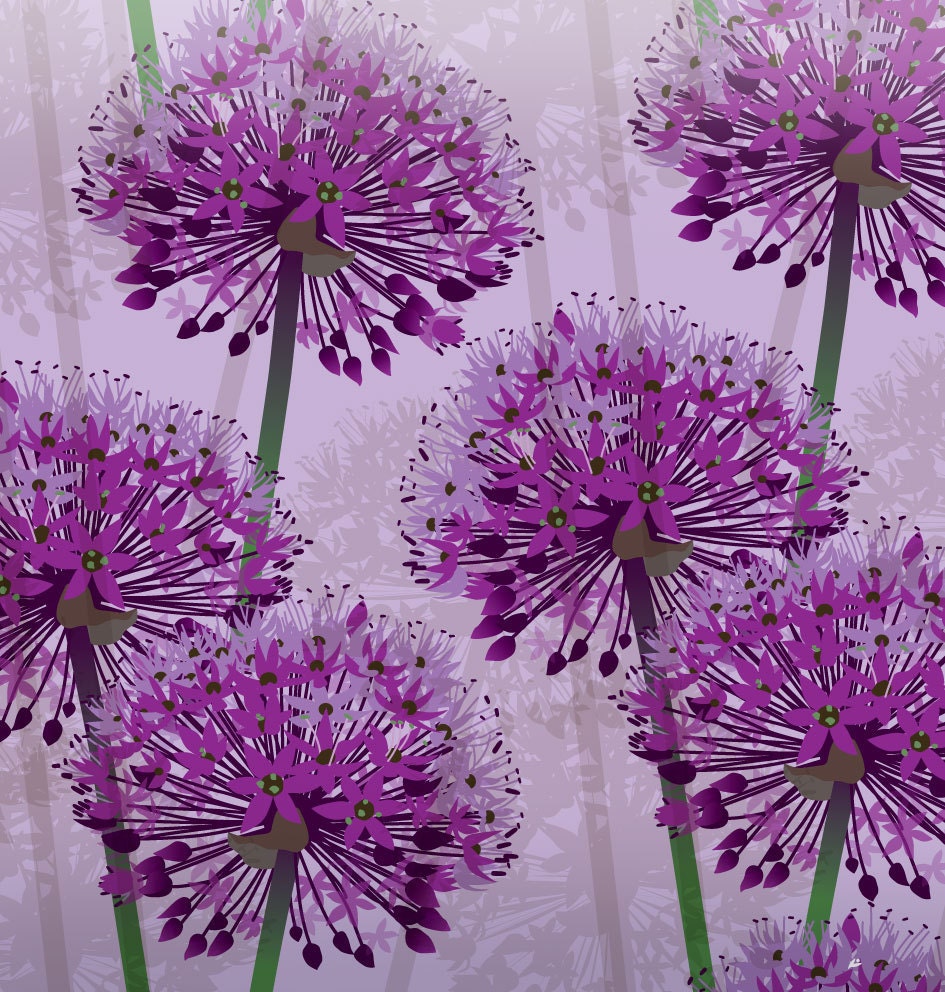 This exuberant flower stands, not surprisingly, for prosperity, something I wish for all my fellow Etsians. So I'm ending this blog and my first Treasury with this fabulous wrapping paper from Jane Crick. It also appears on a card (another birthday hint!). Find more of her designs at
http://www.etsy.com/shop/JaneCrick
I hope you enjoy this collection and like me you are tempted to find out more - it's a fascinating subject. Do explore the shops I've shown - they're all amazing and if, after that, you have a little time left, take a look at mine
http://www.etsy.com/shop/Aliscrafty
!
Love as always
Alison