I have to confess I've been glued to the Olympics. We've been lucky enough to go to two events (tennis and hockey) but have watched the TV every day and have found ourselves drawn to sports which we would never have otherwise seen - the rowing and beach volleyball have really wowed us - and I continued to watch and cheer the tennis last weekend. On Sunday watching Andy Murray and Laura Robson play together what struck me was the importance of team spirit - on the face of it they were very different, male and female, experienced or not - but they played to their strengths together, there was a connectedness which brought a fantastic result.
When I worked in the City my final job in the bank was as part of a small team and I think we worked very well together - we were able to bounce ideas off each other, trust each other completely, had mutual respect and together we gave more than any of us would have done as individual employees. Now I work alone and I miss those aspects of my previous working life so this year I decided I should make more effort to recreate that environment, even if only virtually!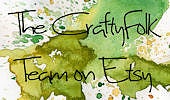 As you know, I recently created a shop on Etsy (Aliscrafty)
http://www.etsy.com/shop/Aliscrafty
. A brilliant environment for selling and very easy to use but it's big and .... a little bit scary for a newbie. So I joined a team: the Crafty Folk team to be precise because someone I follow and admire was in it
http://www.etsy.com/shop/accidentalvix
. Vicky makes gorgeous baby gifts amongst other things.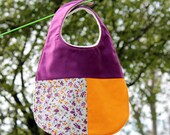 Excellent! Newsletters, information and encouragement were instant: treasuries, favouriting, listing, linking - gradually the mists are clearing. And I found Pat! Now Pat is a talented crafter. Here's her shop so you can check it out for yourself
http://www.etsy.com/shop/PatsParaphernalia
. She makes buttons. Lovely buttons and I use those. So I made a connection, bought some of her stock and she made me some special buttons just for me. They've just arrived and here they are:
Pat's based in Scotland - where I also found Beth Sutherland, yarn specialist extraordinaire
www.lusciouslittlesomethings.com
. She hand dyes gorgeous yarns and fabric so I dared to ask if she would dye some specially for me to use for my knitted and felt Christmas decorations - Gingie and Flippo. I like to use something different each year for their jumpers and scarves but was struggling to find the right yarn for 2012. Her Autumnal colourway seemed perfect and 500g of lusciousness arrived a couple of weeks ago and my needles are now busy making little clothes for my felty folk.
Gingie 2012
Gingie bunting
Flippo 2012
So that brings me neatly to felt. For a while now I've sourced my felt from Colour-Full-Felt
www.colour-full-felt.co.uk
. They have an amazing range of colours (70+) and sell it in handy squares or by the metre so it's been perfect for covering my display boards as well as creating dozens of gingerbread men and penguins, not to mention bunting and bunnies. They recently joined Facebook so we were able to 'like' each other - albeit virtually - share information and pictures of items made with their felt.
Talking of sharing pictures, my good friend Angela Jenkinson of Fired Creations
http://www.firedcreations.co.uk/
alerted me just after my attendance at the Contemporary Craft Fair at Wisley in May to a picture of my sunhats on a blog -
http://annabelleserendipity.blogspot.co.uk
- the lovely Annabelle had visited the fair and posted several pictures of the stands which caught her eye. I've followed her ever since and love reading about her finds and visits. Take a look - it's a lovely read.
I'm hoping to meet Annabelle in person when I'm back at Wisley in November (21st-25th) at another fair organised by the fantastic team at Craft in Focus and I've also been lucky enough to secure a stand at their Sevenoaks fair at the beginning of that month. Their fairs are top quality and for handmade items only
http://www.craftinfocus.com
. As a team they showed their mettle in May when the monsoon season began in Britain - despite this being the initial state of the site they carried on and the visitors still poured in (sorry for the pun!). Just the kind of team you want on your side. Have a look at their Facebook page to see the end result. This was one of my favourite stalls.
So my connections and my 'team' are growing. We can't all meet face to face but the spirit of cooperation is there and thriving and will help us all in the long run.
Lots of love as always
Alison
PS That team spirit has just resulted in my first ever Etsy sale - how good is that?