It's been a whole year since I blogged and although it's a cliche I don't know where the time has gone! Lots of change here with my daughter moving on to sixth form college, studying for AS levels (exams just around the corner already) and learning to drive. I, on the other hand, seem to be doing more of the same! So when The Royal Marsden Cancer Charity posted this on their Facebook page earlier this month
"We need ideas of things beginning with C!
If you could do something beginning with C to raise money for The Royal Marsden this September what would you do?
So far we've got cake-baking, cross country running, comedy night and ceilidh dancing"
CHALLENGE was the first thing that came into my head rapidly followed by CROCHET and CARDS. I usually knit embellishments for my cards so why not crochet them instead?
I've raised money for The Royal Marsden before by selling fluffy cushions made from eyelash yarn.
This was a pattern from Simply Knitting magazine which they allowed to be made and sold for charity - although we have several in various colours lurking around our house too (the cat's particularly fond of his). I have some of the yarn left so will knit a few more for this September's fundraising challenge as CUSHION fits the bill too.
But back to crochet. I did learn when I was young but I wouldn't say it's something I've ever mastered. So I looked around for the type of crochet which would appeal to me the most and which would fit the kind of crafts I sell. A browse round Amazon led me to three beautiful books by Caitlin Sainio.
She works mainly with thread rather than wool or thicker yarn producing very delicate flowers and leaves. The trims book is gorgeous too and the snowflakes so pretty - I can see those adorning our Christmas tree this year or maybe I'll make some into a garland to hang in the window. I love the fact she's made them in colours other than white too.
But just in case this is all too much for my mature and slightly swollen fingers I have also bought this book by Claire Crompton. I already own one of her knitting stitch books and this one is also full of ideas and designs which can be used as building blocks for larger pieces.
If all else fails I will be quite happy looking at the pictures and can always buy some crocheted pieces to embellish my cards. Recently, courtesy of British Crafters, I found Myfanwy's Appliques. Take a look at her Etsy shop and be amazed. https://www.etsy.com/shop/MyfanwysAppliques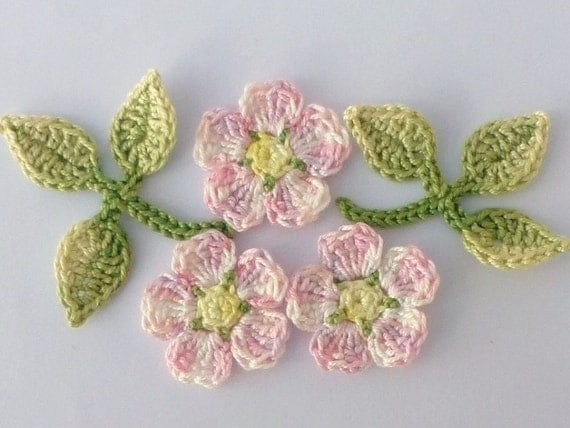 And just yesterday Blooming Felt posted that they had restocked crochet butterflies and roses.
See these on http://www.bloomingfelt.co.uk/ You can buy from their website or pop along to their next Open Day on 3rd May. That's Yarn Shop Day 2014 in the UK so if you can't make there why not make a trip to your local yarn shop instead?
I'm looking forward to the challenge of re-engaging with crochet. If you want to see the results follow this blog or my Facebook page.
If you want to do something beginning with C to raise funds for The Royal Marsden in September here's the link to their Facebook page https://www.facebook.com/royalmarsden
Until next time, lots of love as always
Alison